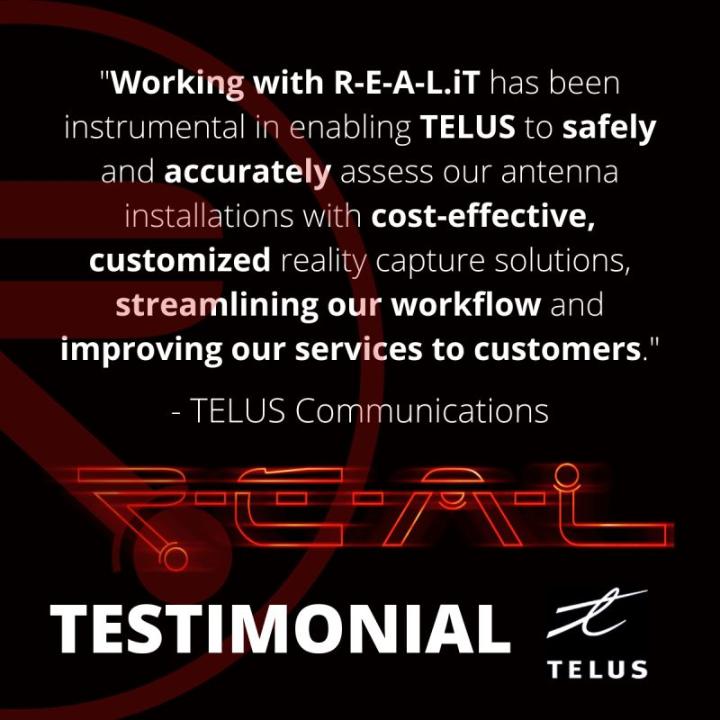 R-E-A-L.iT had the privilege of assisting Telus Communications in designing a custom reality capture solution to problem solve challenges unique to their business.

Here's what they had to say about the process:

"Working with R-E-A-L.iT has been instrumental in enabling TELUS to safely and accurately assess our antenna installations with cost-effective, customized reality capture solutions, streamlining our workflow and improving our services to customers.

With the onset of 5G, knowing the positioning of cell phone antenna installations is more important than ever, in order to ensure proper coverage to all of our customers. TELUS had previously been relying on third party surveying information to get location and placement data for our antenna installations. However, that data was sometimes inaccurate, outdated, or missing context. Gathering new data was a potentially time-consuming, resource-intensive, and often dangerous task.

Derek and his team took the time to learn our business needs, understanding our technical requirements and challenges as well as the importance of this task to our business. Derek proposed a multi-faceted hardware and software workflow solution to our problems. We now have a simple field capture process that creates digital twins from which we can get all the data we need in order to correct antenna positioning before problems crop up for our clients. Using an RTC360, a GPS system, and Cyclone 3DR, as well as custom-created software scripts which Derek's team created for us, we now can easily create antenna positioning reports automatically integrated into google workspace from Cyclone 3DR.

Unlike with some sales experiences, Derek and his team have been constantly available to us both pre- and post-sale, partnering with TELUS in implementing complex and long-term applications of reality capture solutions to our business."

- Telus Communications

Thank you, Telus, for the opportunity to partner with you!